New pictures today from the set of Divergent filming in Chicago. A whole lot of of extras were spotted on the streets, Ashely, Shailene & Ben H made an appearance, and filming of Dauntless scenes took place on the bridge later that evening. Check out the pictures after the cut:
Pictured: Ashley Judd, Ben Lloyd Hughes, Shailene Woodley on set- aka Natalie Prior, Will & Tris. Guys, with these 3 present, we can take a pretty good guess at what they're filming here..
Ashely Judd tweeted this picture below of special effects materials on set. Looks explosive!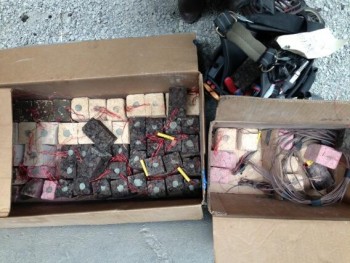 First picture of the factionless!
Set 2: Dauntless extras spotted, plus extras in white coats (now being used to cover costumes)
Sources: Andrew Coffey | Piyush | Aaron Morris | Kt Pete | Ashley judd | Christina | Sonofabaker.tumblr | Meza | Jessica Flores | stephaniesunshineex17 on tumblr | MyStyleisHardStyle | paulyjmats Instagram | BenLambFans | Faiza