There are TONS of interviews with the cast from Comic Con, with Theo James, Shailene Woodley, Miles Teller, Ansel Elgort, Zoe Kravitz, Mekhi Phifer, Christian Madsen, Ben Lloyd Hughes, Ben Lamb, Amy Newbold, Maggie Q, Director Neil Burger, Author Veronica Roth, and theyre all included here for you to watch, plus loads of awesome pictures.
PICTURES
High-Res Pics of the Cast doing interviews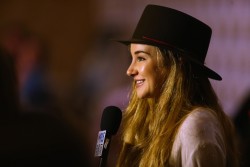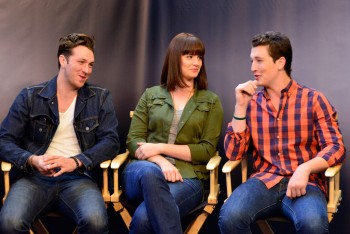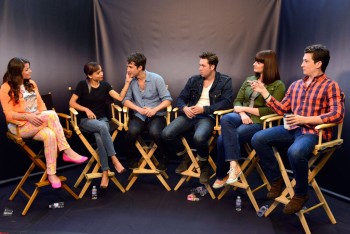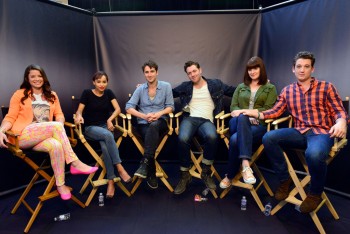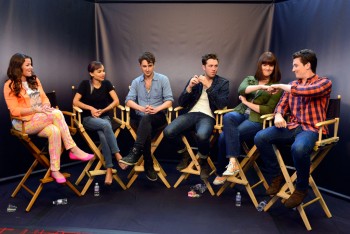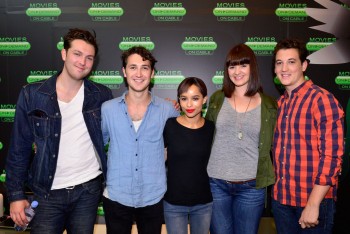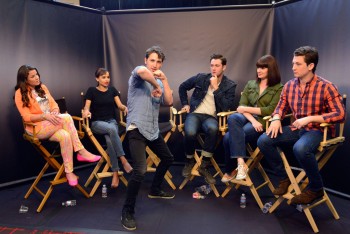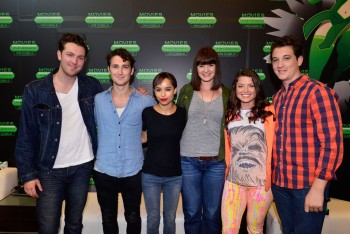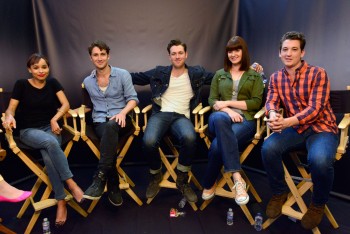 Pictures of the cast/crew doing interviews & photoshoots throughout the day.
VIDEOS
The Hollywood Reporter Interview
+ picture posted
: Here
The EW Interview + portraits & BTS pictures
: Here
MTV Interviewed the cast before theyre appearance at Comic Con. So far we only have this video, but f we find more, we'll update this.
ET-Canada Uncut Interview with Theo James & Shailene Woodley
HitFix: Interviews with Theo James and Shailene Woodley, plus Veronica Roth, Christian Madsen & Maggie Q.
VH1 interviews Theo, Shailene, Veronica & Neil. Watch them get the giggles in part 1. And Neil reveals which scenes almost didn't make the movie in part 2. (or watch
here
&
here
)


Empire Magazine interviews Neil Burger, Shailene Woodley, Ben Lloyd Hughes, Amy Newbold, Maggie Q, Ansel Elgort, Mekhi Phifer, Veronica Roth




SNLFanatics interviews Shailene Woodley, talks about the recent racy photoshoot.




Summit Soundbite Interviews (Via Screenslam)

Theo James



Shailene Woodley



Ansel Elgort



Miles Teller



Mekhi Phifer



Ben Lamb



Ben Lloyd Hughes



Christian Madsen



Zoe Kravitz



Maggie Q



Amy Newbold


Director Neil Burger
Author Veronica Roth
Fandango Interviews
Popsugar Videos
Theo James talks about Four
Shailene talks about stunts on the divergent set & more
Miles Teller on fighting Shailene
Zoe Kravitz talks about tattoos & more.

Ansel Elgort talks about The Fault in our Stars & Divergent



What makes Maggie Q geek out.




Access Hollywood chats to Shailene Woodley
Clevver TV Interviews with Veronica Roth, Theo James, Shailene Woodley & Neil Burger. Last video includes the rest of the cast too.
MovieDotCom: Interview with Ansel Elgort, Ben Lam
b
, Maggie Q, Mekhi Phifer
MoviesDotCom Interview with Theo James and Shailene Woodley



MoviesDotCom: Shailene on being cut from the Spider-Man movie.


Crave Online
talks to Ansel, mehki, Ben lamb, Maggie Q about what factions they would choose
.
Shailene Talks to Judao, plus second short video with Theo, and an interview with Veronica.

IGN interviews Veronica Roth & Neil Burger


Collider Interviews Veronica Roth and Neil Burger.
Burger says he was told as they began shooting that they were coming to Comic-Con, which created a rush to shoot and edit footage for the Comic-Con reel.
Interview for
TrisandFour.com
with Ben Lloyd-Hughes (Al), Miles Teller (Peter), Christian Madsen (Will) Amy Newbold (Molly) and Zoe Kravitz (Christina) at the Hard Rock Hotel 7-18-13
DivergentFans
interviews Ansel Elgort, Ben Lamb, Mekhi Phifer, & Maggie Q
'Theo James is a Dream Boat'


Miles Teller Talks Divergent and Shailene




Zap2it interview with Ansel Elgort, talks about The Fault in our Stars: HERE (Spoilers)
Zap2it interview with Shailene Woodley, talks about favourite Divergent scenes: HERE
OTHER INTERVIEWS
Theo James & Shailene Woodley answered fan questions on EW's
Facebook
: Transcript
What was your favorite scene to shoot? Is there anything that you were looking forward to from the books particularly?
I loved the ferris wheel scene, that was badass. How often in life do you get to climb a ferris wheel? – S
If you went into the fear simulation what do you think your fears would be?
Guacamole and killer sharks. – T
What fraction do you feel a part of? What one would you choose?
Dauntless, Abnegation & Amity -S
You would be Divergent -T
Shailene, are you a lot like Tris? What's your favorite thing about Tris?
I love that she has a delicate balance between selflessness and being brave -S
How much did you get to interact with Veronica Roth and what was that like?
We had dinner 3 days in with her, we were able to ask her questions about the series that helped informed our own narrative for the character. -T
What was your favorite part about working together?
Shai was a very cool and open person, we had a natural chemistry from the screen test and I knew that was going to help us -T
He's super badass and does his own stunts, so it was cool to be part of that world -S
Vulture
: Theo James and Shailene Woodley sort each other into factions, and more:
Which section would Woodley place her co-star in? "I would say the old Dauntless. Dauntless the way it used to be," she said. "Theo is a very compassionate person, and the old Dauntless sort of stood for security and bravery."

"I would say Shai would be Dauntless, Amity, and Candor," replied James. "You're quite honest."

"I am pretty honest," Woodley laughed. (She's not kidding!) "Well, if we get to choose a few, you'd also be Erudite."

"You'd also be Abnegation, because you're so selfless," said James. "You think beyond yourself." Indeed, the unusually generous and friendly actress had already hugged this reporter twice within five minutes of meeting.
On dressing up: "I dressed once as the old Batman — the pow pow Batman," said James. "I did it at university, and it was retro, I suppose. There was a Robin as well, and we both stuffed our crotches." He began to point repeatedly at his nether regions. "Our crotches were really full." He continued pointing at his package. Reader, your Vulture reporter had too much propriety to even look. (Read the full interview here)
Moviefone
interview with Theo and Shailene:
Theo James: We want them to approach it as something different and new. Any preconceptions about it being a YA -- obviously, it has that tag -- but they're all unique in their own ways. And Veronica has created a very unique and strong and dynamic world, coupled with [director Neil Burger]'s vision of it. And then, hopefully, what we've done collectively as a cast with our characters and the choices we've made make something that is not just a YA movie. It's a movie in its own right, too. It's both. It's an adult movie and a YA movie. And a very strong action movie; there's a lot of action in it, but with a very central and emotional heart.

Shailene Woodley: I agree. That was prefect. I second that.

What do you want people to know about your characters, Tris and Four?

Woodley: I want people to know that Tris is normal and that she's not a superhero. Maybe she's an action star just because of the definition of that, but she's not a superhero. She's a very normal, young woman who is trying to figure herself out as well as trying to help her community. She's sort of been given this gift of being the only one to be able to do what she's able to do, and I don't think that it makes her more special than anyone else. I think that she just happens to be the one who's in the seat to do greatness. Sort of like "With great power comes great responsibility." I know that quote is used so often and it's so cliche, but I f*ckin' love it.

I want people to know she's normal. Every interview, people are like, "What does it feel like to play a superhero?" She's not a superhero. She's vulnerable, and she's sensitive and she's broken in a lot of ways, but she's forced to figure herself out through really extreme situations. And she doesn't know who she is. She's very normal. I mean, she burps sometimes.

James: I love burping.

What about Four?

James: I think he's one of my favorite characters that I've played because he has this, um...

Woodley: He's amazing. (Read the full interview on moviefone)
Hypable interviewed members of the Divergent cast:
The cast told us today's first-look is about a minute of highlights including people jumping off trains and buildings like the Dauntless love to do. It will introduce people to the series whether or not they've heard of it before. We've confirmed with Summit that it will not be released online.
"That's the point of this, to show Divergent to the fan base and explain what it's about for people who haven't read it and don't know anything about it," said

Christain

Madsen.
Added Teller, "It's probably showing a lot of the tone, it's showing how Neil's shooting it. It's a really big movie, big budget."
We also asked about favorite sets. Again, the Dining Hall featured as one of the cast's picks. They were also impressed by the warehouse where training occurred. "We our fighting and training there and it sucked," said Newbold. "It was cold and drafty, but it looks so good on screen, and I loved how we were so uncomfortable because it was a really nice initiation" into the dystopian world. (Read the full interview at Hypable)
ET Canada
Interviewed Theo & Shailene:
What does Shailene's co-star Theo think of Tris and Four's romance? "[It] was something that came very naturally to Shai and I," he tells Erin. "We have lots of similarities, but we also have enough differences which creates fire." Adding, "when two people are the same it doesn't do well for chemistry."
Now we know that having a hot onscreen romance with Theo James, who plays Four in the film, isn't that difficult, but as we found out, acting on a green screen is. "Green screen acting is by far harder than any other acting in the world," Shailene admits, adding, "because you have to pretend something's happening that's so out of context for normal reality."
Read the full ET Canada Interview
here
Second picture from top: Source
Pictures throughout the day sources: Tara Bennett | EW | ETCanada | Miles | Fangirlishness |
EpicReads | Kelly West | Fandango | AMC Theatres | VH1 |
Other pictures: Zimbio