Day 2 of the Divergent tour! The cast members continued visiting different cities to attend mini red carpet events and screenings of the movie. Today they were in Chicago, Dallas, St Louis, & Detroit. Check hundreds of photos & videos below. All credit to the sources listed at the end of the post.
ABC 7 Coverage from the premiere including brief interviews with cast & Veronica
2. Ansel sends a message to one of our favorite fans, ladyoferudite :)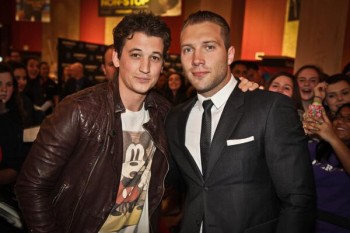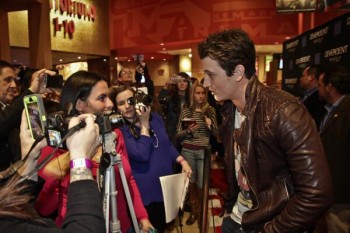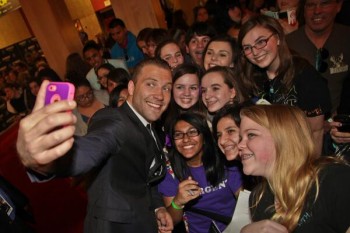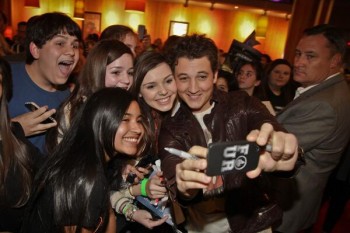 "So let me start by saying that I completely LOVED the Divergent Movie!! Omg it was AMAZING!!!!! Yea they didn't add some things but it didn't make a huge effect on the movie. Theo James as Four Holy jesus!!!! He was awesome!!! Kinda scared me sometimes jaja! But he was omg AMAZING!! I meet Miles and Jai also and omg they were soooo nice!! Miles was so sweet and funny! He made me laugh sooo much! I cannot wait to see the movie again!!!
Looking back on the experience Wednesday morning in Dallas, Teller, who plays Peter, and Courtney, who plays Eric, took turns being bemused and busting chops like old buddies.
"You feel like you're in a boy band or something," says Teller, who was superb in last year's The Spectacular Now.
Courtney: "I didn't feel that way. But you might have."
Teller: "That's because all the girls were screaming, Miles! We're here purely for Miles! We love him! He's so cool!"
Courtney: "That kind of takes the pressure off me."
Teller: "Well, you're always the second most attractive person in the room. That's a nice freedom to have. Those are Peter's Princesses out there."
Courtney: "This is [expletive] hilarious. You're actually going to coin that phrase."
Teller: "This girl had a sign that said, I'm Peter's Princess! That's getting rowdy. I'm glad security was there. Without that it could have been a little bit weird.
Courtney – "I don't have princesses."
Teller: "How about…Eric's Idols?"
Fan pics
Videos:
Trevor o'conner Interviews Ben and Christian
HighRes
Fan Pics
HighRes Pics: Flawless Maggie | HQ Celeb | JustJared | Shailenewoodleydaily
|
TJamesBrasil
Fan Picture sources:
PolishedPage
|
B96
|
PassiveReflex
|
Dianne
|
EpicReads
|
Shelby Wilson
|
AnselElgort
|
Sasha
|
Ditacannon
|
Emma
|
Sarah
|
Melanie
|
Miranda
|
Becca
|
Alyssa
|
Vince
|
itzel
|
Mamacougar
|
Nabiha
|
MollyPotter
|
Showbizshelly
|
Ashley
|
iamfandom
|
Karina
|
iamericvincent
|
AdrienneWrites
|
Hannah
|
Ridley
|
Natalie
|
Nina
|
James
|
kayla
|
Heather
|
Mekhi
|
TheDivergentnet
|
redcarpetendings
|
Renee
|