We got some awesome pictures from the set of Divergent today.
Top image is Veronica Roth who is visiting the set, with Ansel & Shailene on set. She tweeted it to Author john Green with "Oh no, you left your Hazel & Gus in Chicago!" (They were both recently cast as the leads in the movie of his book). John Green replied "aww that is such a great picture! So excited for the Divergent movie."
Ansel also shared a picture with the 3 of them on his instagram, and Producer John Kelly shared his picture with Veronica, (see below).
The rest of the pictures are from filming, and they're some of the best shots we've had. Click for full size. We also have 3 AMAZING videos that feature faction extras filming scenes in Chicago. You get to see Dauntless running through the street, some of which climb onto the tracks. Check them out: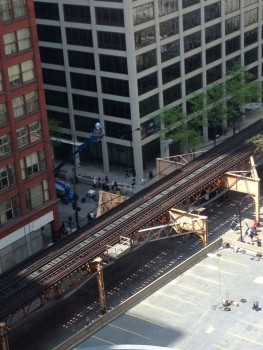 Veronica's set chair. Very cool.
Vine: Set up the day before
Sources: John Kelly | Andrew Coffey | Pat O Brian | Veronica Roth | Ansel Elgort | DivergentFansuk