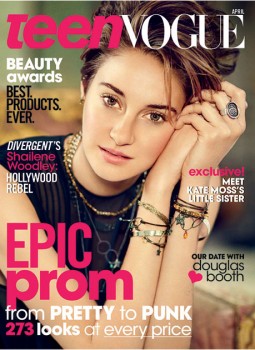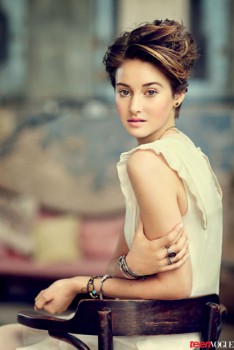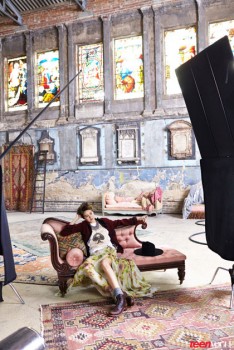 Shailene Woodley graces the cover of another high profile magazine, this time the April edition of
Teen Vogue
. The photoshoot was taken at Caroline Gardens Chapel in London during her trip in November last year. The cover will hit newsstands on March 25. More photos, behind the scenes videos, and article below:
Behind the Scenes Videos
: (2 out of 3, will post 3rd when available)
More from the Photoshoot: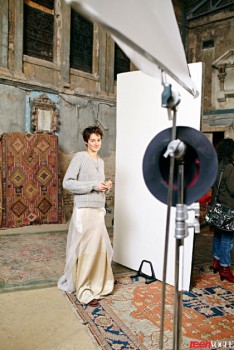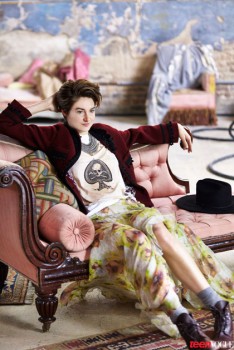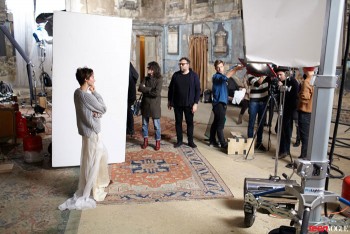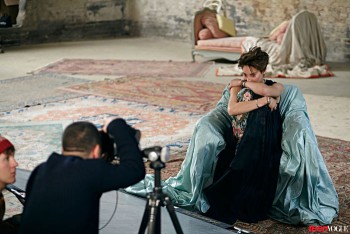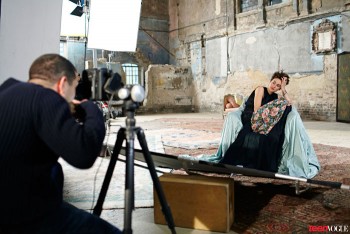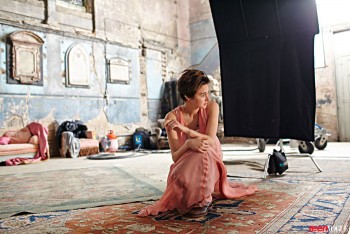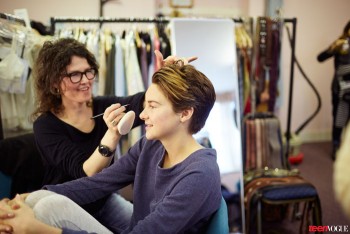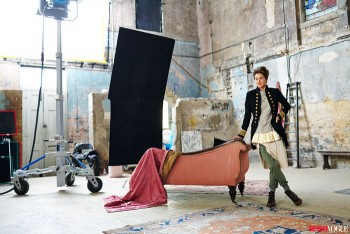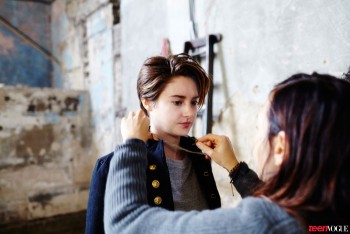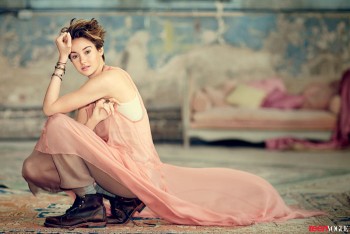 From Teen Vogue:
We often forget about the importance of being earnest. For a young actress in Hollywood, it's certainly a rare quality. There's outspoken and brassy, à la Jennifer Lawrence—and we love her for it—but preaching your principles and holding on to them are entirely different. Shailene Woodley is indeed a rarity: a 22-year-old whose passion isn't infused with sass. It's full of hippie love, for her friends, her films, nature, George Clooney.... She's definitely not the one who yells across a room, and it's the content of what she says, not the volume, that makes her unique. She is Hollywood's rebel, as we say on the cover, but not a
deliberate
one.
We're sitting in the back room of Akasha, a café in Culver City, California, having breakfast. Shailene, glowingly makeup-free and Cali-casual in a nondescript gray sweater and beanie, has just come from seeing
Divergent
for the first time. A dystopian tale of a world where people are sorted into factions according to their personality traits, the film is based on the best-selling young-adult novel by Veronica Roth. It's the first in a trio of books being hailed as "the next
Hunger Games
," a moniker that has caused many other recent movies—
Beautiful Creatures
,
The Mortal Instruments: City of Bones
,
Ender's Game
—to falter under the great weight of expectations. But this one is shaping up to be epic. In it, Shailene stars—alongside Kate Winslet, Zoë Kravitz, Miles Teller, Ansel Elgort, and Theo James—as Beatrice "Tris" Prior, a strong-willed, opinionated heroine who, like the actress herself, doesn't fit into any predefined category.
Even though she saw only a rough cut of the movie, Shailene seems impressed. "It was pretty wild," she says, absentmindedly tugging at her collar to reveal the fading image of three ravens—Tris's tattoo in
Divergent
—on her clavicle, courtesy of recent reshoots. "Doing an action movie is completely different from one based in reality. It's much harder to act with a green screen than with another human being. There are so many special effects in this film, so it was really amazing to see how they turned out."
Despite
Divergent
being the most difficult thing she has ever done, the actress has no regrets—although, she says, she initially turned down the part. "I said no, and everybody was shocked," she reveals. Then she went to Katniss for advice: "I asked Jennifer Lawrence, 'Are you happy with your choice to take on
The Hunger Games
?' And she said she wouldn't change it for the world. She told me, 'There are some things—don't make a sex tape, don't do drugs, don't do things in public—that you wouldn't want other people judging you for. But
this
is the best decision you'll ever make.'" From then on, Shailene hit the ground running, literally; the training was brutal, and the cast often worked 16-hour days in 20-degree weather.
Divergent
, directed by Neil Burger, is a huge departure for Shailene, who grew up in Simi Valley, California, as the daughter of a guidance counselor and a school principal and has been acting since she was 5 years old. After landing countless commercials, she was cast as the lead in ABC Family's
The Secret Life of the American Teenager
, a big success during its five seasons on the air. But she is perhaps best known—so far, at least—for her Film Independent Spirit Award– winning role as the sulky teen daughter of George Clooney's character in the 2011 indie favorite
The Descendants
, directed by Alexander Payne.
"After
The Descendants
, everybody was like, 'You've got to ride the wave!' And I was like, 'You ride the wave and it eventually crashes on the shore. That doesn't work out! I'm going to just sit here and paddleboard,'" she says, laughing. "I didn't do a movie for two years because I didn't read anything that was inspiring to me." Apparently it was worth the wait. In the course of a year, Shailene will have starred in four new films (it would have been five, but her part as Mary Jane in
The Amazing Spider-Man 2
was scrapped due to a reworked plot). The coming-of-ager
The Spectacular Now
was released last year; 2014 brings indie drama
White Bird in a Blizzard
to Sundance, this month's
Divergent
, and June's
The Fault in Our Stars
, the much-anticipated big-screen adaptation of John Green's heart-wrenching YA novel. A similar theme runs through all these movies: love. In fact, each of her project choices since
The Descendants
has been about relationships.
"That's crazy! I never thought about that," Shailene admits. "I haven't had time to think about a relationship! I literally have not had a boyfriend in almost five years. I've never even hooked up with anybody I've worked on a movie with." But what about after a movie wrapped? She laughs. "Well, that might have happened on something...."
To get the full scoop, pick up our April issue on newsstands March 25. And to have Teen Vogue delivered every month, subscribe here!
Quotes from the photo shoot:
"I was once told by a studio that I needed to make my look more cosmopolitan, that I needed to create a persona. I looked at them and said, 'You just told me I wasn't good enough to be myself. And that is not OK."
"Our chemistry wasn't an overnight thing—it grew," Shailene says of her Spectacular Now and Divergent costar Miles Teller. "It was very brother/sister-like."
"This shoot is a great marriage of who I am and Teen Vogue's vision for me," Shailene says.
Shailene jammed out to Lorde's Pure Heroine CD during the shoot.
Shailene strikes a pose at our hauntingly beautiful location, the Caroline Gardens Chapel in Peckham, London.
"We take our jobs very seriously, but we also take fun very seriously, which is something George Clooney taught me," Shailene says. "The second the camera rolls, George is present, giving an amazing performance. But the second it cuts, he's playing basketball with the transportation guys or making sandwiches and handing them out."